ISP Cloud Storage, Nike MAG, Google Plus Widgets, Input Director, E3 Spark Plugs, Metro Start Pages, and a stroll along Nostalgia Street – HT043
Jim and Andrew and Christian are joined by Rich O'Neil for this week's installment of the Home Tech Podcast.
The show starts off with Andrew giving an update of the status of solar installation rebates in Victoria in Australia, and why he is installing more solar panels on the house.
Jim tells us about Cox Communication's new offering, which gives their Internet subscribers a cloud-style backup solution, starting at 1GB to 50GB up to Unlimited storage, depending on your subscriber plan.  If you are a subscriber, this is a great alternative to the other cloud solutions we have spoken about in the past.
---
Andrew brings us the Nike MAG, a new shoe that will have all fans of the Back to the Future movies drooling, being the self-lacing shoe that Marty McFly wears in the second movie – check it out at Nice Kicks; not the best looking shoe in the world, but definitely one for die hard fans of the movie!  The shoes will be available on eBay, and all sales proceeds will go to the Michael J Fox Foundation for Parkinson's Research. Unfortunately no-one has designed a functional Hover Board as yet, but we live in hope!
For the Google Plus users who want to be able to integrate their social feed onto their Windows 7 desktop, the folks over at Kalamon Software have released a Google Plus Windows 7 desktop gadget, which "Displays live Google+ messages feed on your Windows 7 desktop".  The guys discuss the various desktop information feed utilities that they use, including Rainmeter, HTC Home, and the built-in CPU and Memory widget.  The guys go on to talk about how Google Plus is being used as opposed to how folks use Facebook and Twitter.
Andrew brings us a fantastic utility called Input Director, which allows a single keyboard and mouse to control multiple PC's on multiple monitors.  If you're confused already by the description, this image might help!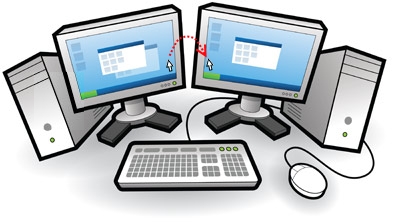 The setup was a very easy setup, with an Average Guy rating of 2/10 for simplicity!  If you're a Linux or Mac user, you should check out Synergy, which although being a little more difficult to configure, provides a similar service, but allows you to slide between platforms as well as monitors, using a single keyboard and mouse.
From Christian's Corner, the Deal of the Week, is the E3 Spark Plug, which Christian's family have found has improved their highway cycle fuel economy by around 4 mpg, just by changing the plugs over.
Christian's Tip of the Week is a Windows 8 Metro Style Home Home Page for your web browser, which lets you pre-define websites in the same style as the Metro Style that is seen on the home screen of the current Windows Phone.  A very cool way to start your browser, sure to get your friends talking.
Christian tells us about his latest project, designing and installing a security camera system for a baseball field, and the constraints of finding an Internet Provider, and the guys discuss some of the ISP and network connectivity options available.
Rich tells us about the latest audible book he is listening to, "The Master Switch" by Tim Wu, who coined the term "Net Neutrality", which talks about the cycle through which information industries rise, consolidate, monopolize, capture governments, force out competitors, and eventually, fragment into something less grandiose, less perfect, but more vibrant, open, and innovative.
The guys take a walk down Nostalgia Street, talking about the advances in communication in the past 20-25 years, including the reduction in the cost of international phone calls, email, and communication as we now know it, including video calling.
The guys close out, talking about some of the horrendous hail storms that have lashed Melbourne and Nebraska in the past 18-24 months, with hail stones the size of baseballs, and the damage that these storms do to property.
Don't forget our feed location is changing – click on
to update your iTunes library, or for other Podcast downloading applications, please click on the RSS Feed and pick your Pod Catcher of choice!
Facebook Page: https://www.facebook.com/theAverageGuyTV
Facebook Group: https://www.facebook.com/groups/theaverageguy/
If you'd like to subscribe to the show, click on  to update your iTunes library, or for other Podcast downloading applications, please click on the RSS Feed and pick your Pod Catcher of choice!
Or, you can now stream the show online at Stitcher.com at http://stitcher.com/listen.php?fid=22271
The Show Announcements and Schedule: https://twitter.com/TheAverageGuyTV
Jim's Twitter: https://twitter.com/jcollison
Andrew's Twitter: https://twitter.com/unrealshots
Contact Christian: christian@theaverageguy.tv
Contact the show at podcast@theaverageguy.tv
Find us on Facebook: https://www.facebook.com/groups/theaverageguy/
Find this and other great Podcasts from the Average Guy Network at http://theaverageguy.tv